Biography Of The Beloved Jerry Byrd
Written by Ray Montee (1936-2018)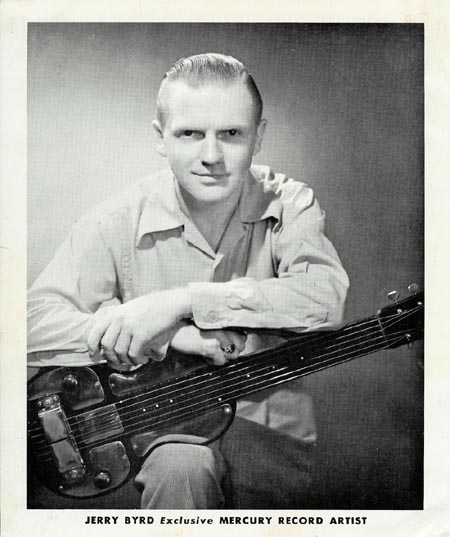 Born March 9, 1920: Gerald Lester Byrd, our own "Jerry Byrd" was the first born of Harley and Lauretta Byrd.

Born in Lima, Ohio, the oldest of five children, Jerry was destined to rise to a position of world-wide fame as one of the finest, most versatile and creative steel guitarists, ever.

The year 1932: (age 13)Jerry's interest in the Hawaiian Steel Guitar became evident after seeing a traveling tent show in his hometown, where he chanced to hear the steel guitar being played. So attracted to this beautiful music, Jerry made an early, personal commitment to master this instrument and to make it his career.

The first really impressive "country" steel guitarist he ever heard was Leon McAuliffe, whom Jerry saw in a movie with Bob Wills. Jerry was so very impressed that he sat through the movie four times just to see/hear Leon play one chorus of "Ida".

The year 1934: Jerry acquired his first steel guitar, a $65.00 Spiegel model complete with amplifier, from the then famous Spiegel mail order house. This was after two summers of very hard work as a house painter. He played it tirelessly for some two years.

Jerry's exposure to the records of Sol Hoopii and Dick McIntire played over local radio stations was supplemented by music lessons from a local teacher, Ron Dearth. Together, they kept that red hot musical passion burning deep inside the young lad, a passion that propelled Jerry Byrd to the much admired, and highly respected, world-wide status that he has long enjoyed.

By age 15, Jerry was playing around the area professionally, earning a whopping $1.00 per night in local beer joints.

The year 1936: By age 16, Jerry was playing a Rickenbacher Electro, six string, Bakelite steel guitar, purchased for $150.00 from his long time friend and mentor Ron Dearth.

Dearth accepted Jerry's original guitar in trade and encouraged Jerry to author music tabs for Ron at $2.00 each in order to pay off the $110.00 balance owing. It's been rumored elsewhere that Jerry once received $2.00 per unit that was credited toward the purchase of his first Rickenbacher, by transcribing music for The Honolulu Academy of Music in Lima, Ohio. It's not known whether this was in connection with Ron Dearths' Music Store or not. (This guitar has been on display in Nashville's Country Music Hall of Fame since November, 1966, and was heard on hundreds of recordings on which Jerry Byrd performed during the early part of his career.)

Jerry was largely "self taught" and truly enjoyed playing the types of ballads that Red Foley sang and recorded during the 1940-1950's. Jerry's famous words to all with whom he has ever communicated has always been "PRACTICE, Practice, practice".

The year 1937: Jerry was playing a lot of Hawaiian style music in trios.....throughout the Lima and Cincinnati, Ohio, and Kentucky area; small clubs and the like for $35.00 per week.........seven nights per week. Lima Radio WBLY was a frequent base for Jerry's musical performances.

This is the year that Jerry started playing on John Lair's Renfro Valley Barn Dance out of Dayton, Ohio, located just south of Lima.........and broadcast over Cincinnati's WLW Radio.

It was at Renfro Valley that Jerry met such great artists as Ernie Lee, Red Foley, Homer & Jethro.

The year 1938: When just 18 years old, he conceived and developed what today, has become the popular, standard C6th tuning. Jerry's initial tuning was for a six string guitar and was tuned from high to low, E, C. A. G. E. C/C#. Since those early days, guitars have expanded the total number of strings on each neck ranging from 7 to 14 strings, and thus there are numerous variations on Jerry's original tuning. Although others have since made claims that they had invented this great tuning, Jerry was able to prove beyond doubt that he did so by way of an early recording he made at that time. On February 19, 1939, Ron Dearth recorded Jerry Byrd in his studio, playing in Jerry's new C6th tuning. This was in 1938, so Jerry had to be playing in that tuning during 1938.

While still in high school, Jerry had his own trio and played Hawaiian Music each Sunday afternoon over Lima, Ohio, Radio WBLY. (At this point, Jerry hadn't even dreamed of cutting a commercial record.)

Jerry's second trio consisted of his cousin Carl Miller and a friend Emerson Myers. This was during 1938 and represented his first professional radio experience. At this point in time (1938), Jerry was still playing the popular tuning of the day, E7th and C#min. which he could quickly adjust up or down to suit the musical selection to be played.

The year 1939: By this time, Jerry was using his C6th tuning exclusively.

He made his own, first, really big break when he auditioned to play on the Renfro Valley Barn Dance, which was one of the most popular country music shows in the nation during the late 1930's; the other being the Nashville Barn Dance. At that time, the show was being broadcast from the Memorial Auditorium in Dayton, OH.

His first appearance was a giant success, the crowd loved him and his beautiful playing. Thereafter, he played each Saturday for the show. This was "the life" for this aspiring young genius of the steel guitar, later to be dubbed "The MASTER of Touch and Tone" by DeWitt "Scotty" Scott of St. Louis, Missouri. (Jerry Byrd is indeed, just that.)

Then it happened! The show moved to Renfro Valley, Kentucky. In spite of his "burning desire" to accompany the show, his father insisted that Jerry stay behind and first complete high school. Jerry did graduate from Lima Central High School in 1939, much to his parents' delight.

The Renfro Valley Barn Dance was broadcast over both the NBC and CBS Radio Networks; the Mutual Radio Networks. His first radio show there in Kentucky, was on November 4, 1939, where he remained until 1942.

The year 1940: Jerry's first recording experiences began on October 9, 1940, when he, along with guitarist Ernie Lee Cornileson (Ernest Eli Cornelison, dob 4-12-16), under the name of "The Happy Valley Boys", recorded eight duets for RCA's Bluebird Label, in the old Kimball House in Atlanta, Georgia. In June, 2001, Jerry admitted to me that his sound of the early 1940's, was like no one else had and it could be classified as "the early Byrd" sound.

The year 1941: It was during this year that Jerry was hospitalized for an appendicitis operation and later was struck with a serious case of pneumonia that nearly claimed his life. One of his lungs collapsed leaving him with very little lung capacity and forcing him to stop and breath after 3-4 words. Unable to participate in the military during WWII, he returned to Lima and spent many, many weeks in recovery. (The results of this illness continued to plague Jerry throughout his life.)

The year 1942: Following Jerry's recovery, he returned to John Lair's Renfro Valley Barn Dance sometime during 1942, where he worked steadily until leaving, sometime in the fall of 1944.

In July of that year, 1942, Jerry married Thelma Marie McWiley.

Jerry along with vocalist Ernie Lee and Barefoot Brownie Reynolds, next headed for Radio WJR in Detroit, Michigan, where they played their music for some two years thro' 1944.

During this time, Jerry worked with some of the regions top musicians and could be heard playing his one of a kind style, throughout Radio WJR's, entire broadcast area. From this early date, Jerry has served as an inspiration and mentor to thousands of current steel guitar players, world-wide.

The year 1944: With friend Ernie Lee, Jerry was doing a morning country music show at WLW Radio and also the weekend Goodwill Frolic Gang. He remained with Ernie Lee until sometime in 1946.

The year 1946: His first regular job in Nashville was playing with Ernest Tubb and the Texas Troubadours where he helped premier Tubb's new weekend show "Midnight Jamboree". Wages were a whopping $75.00 per week. During this time, he played himself in Ernest's life story, a movie entitled Hollywood Barn Dance, filmed in California. Old copies of this funny movie are still floating around the country-side.

Unhappy with all the traveling and physical stress caused by it, and unimpressed with his exposure on the big screen, Jerry left Ernest Tubb's group after just 3 1/2 months. This was Jerry's first real experience in commercial recording and occurred in Chicago and included such tunes as "So Round, So Firm, So Fully Packed" among others. Some of these old records are fabulous examples of what this young man was capable of doing even at his early age.

The Thursday, March 7, 1946, issue of the Manchester Enterprise Newspaper, located in Washtenas County, Michigan, was featuring the coming attraction of the GOODWILL BILLIES. This group consisting of Smilin' Red Maxedon, Brownie Reynolds, Casey Clark, Ernie Lee and Jerry Byrd were credited with a national reputation for putting mountain music on the map. The group, it was announced, was to appear on a 45 minute show at the State Sheep Shearing contest to be held on March 28, 1946. In an accompanying photo, it can be seen that JERRY BYRD has his Volu-Tone amp and a 6-string Bakelite steel guitar with both tone and volume controls; one on each side.

The year 1947: This is the date that Jerry Byrd joined Local 257 of the Musician's Union, November 13, 1947, enabling him to play on the Grand Ole Opry.

He next joined Red Foley's Cumberland Valley Boys, featured on the NBC-WSM, Prince Albert Smoking Tobacco part of the Grand Ole Opry weekly radio show. He and Red were the best of friends for a number of years, that is, until Jerry discovered the pay package he'd been receiving from Foley was not on the up and up.

In about 1948:

During the August 21st, 1948, Grand Ole Opry Prince Albert Show, the guest host was Ernie Lee from Cincinnati, Ohio. This is believed to be the first time the Opry used an outside artist as a 'guest host' for Red Foley. This coincided with the national musicians strike against the record companies. From all indications, this is the last show played on the Opry by JERRY BYRD. Shortly thereafter, he headed north to Cincinnati with Ernie Lee.

Lured from Nashville, TN., to Cincinnati, OH, JERRY BYRD and his highly talented musical friends were soon to become the most 'in-demand' session musicians in country music. This phenominom lasted for the next three years, prior to Nashville even having a Music Row.

Known as the Pleasant Valley Boys, JERRY BYRD (steel guitar), Zeke Turner (whose real names was James Grishaw) on lead guitar, Louis Innis on ryhthm and vocals, along with Tommy Jackson on fiddle, were heard regularly on the weekend WLW radio/television show "Midwestern Hayride" and also 'the Boone County Jamboree'.

As a side note, Tommy Jackson was born in Birmingham, Alabama (3/31/26) and having tired of 'road work' at a very early age, had actually formed Nashville's first Studio A-Team which consisted of the above musicians. During WWII, Tommy earned 4 Bronz Stars and an Air Medal while serving as a tail gunner on a B-29. His passing on 12/09/79, was sadly overlooked by the industry that had been such an important part of his life.

While in Cincinnati during the time 1948-1949, prior to Nashville having a Music Row and prior to King Records making its mark, Jerry had the pleasure of playing on eight of Hank Williams' greatest hits. The biggest of them all was "Lovesick Blues", released in the spring of 1949, and which remained in the #1 spot for 16 weeks earning Hank an invitation to perform on the Grand Ole Opry where he received 6 encores and turned him into a true super-star.

The recording was made on December 22, 1948, on the 2nd floor of the famous H.T. Herzog Studios, 811 Race Street, in downtown Cincinnati. This site is now marked with a 2-sided historical marker, errected on Dec. 1, 2009.

Two seperate recording sessions, the first on Dec. 22, 1948, resulted in such all time Williams' hits as "Lost on the River", "There'll Be No Teardrops Tonight", "I Heard My Mother Praying for Me", and "Lovesick Blues". The second session was on August 30, 1949, and included such popular hits as "I'm So Lonesome I Could Cry", "I Just Don't Like This Kind of Living", "A House Without Love", and "My Bucket's Got a Hole in it".

Hank Williams came to Cincinnati specifically to record with JERRY BYRD and the Pleasant Valley Boys, having worked with them previously while they were in Nashville. Other stars were soon to follow, such as Judy Perkins, Red Foley, Homer & Jethro, Rosemary Clooney, Patti Page, Grandpa Jones, Rex Allen and Moon Mulligan. Major recording labels were soon sending their talent to Cincinnati just to record with JERRY BYRD and the band.

The year 1948: Millie Annis, of Grand Rapids, Michigan, formed the Jerry Byrd Fan Club. Millie worked hard and never once complained about the complexities of running such a club. Hopefully her rewards were as meaningful to her, as these JBFC Journals were to each of us. Starting with about 25 members that first year, the club held steadily at around 300 members for the next 23 years.......disbanding in January, 1972. (This is about the time Jerry was preparing for his move to Hawaii.) Many of his loyal fans still have those early Steel Guitar Echoes journals containing personal letters and photo's of Jerry, stashed away in a safe place, just like the records of their steel guitar hero.

Jerry mentioned that just prior to Millie's death, she had contacted him with word she had discovered many, many photo's from the fan club days and didn't know what she should do with them. Jerry didn't say how this issue was resolved.

In fact, Jerry told me he used a complete set of these journals that a long time JBFC Member had loaned him during the preparation of his book "On The Wings of Music".

The year 1949: Jerry and Thelmas' first daughter Lani Jo Byrd was born into the family on July 4, 1949. (Lani Jo married during the summer of 1971.)

It was there in Cincinnati, that Jerry Byrd made his first Mercury records as a steel guitar soloist. His first side, according to Mercury Records, was "Drowsy Waters". Jerry told me that while they at this session, the record producer informed him that he had to have one more song and it needed to be a vocal of some kind. Jerry explained that he grabbed Rex Allen and they went out in the hall and tossed together the lyrics for "Steelin' the Blues", a tune we've all come to love and enjoy. Tragically, on December 17, 1999, Rex was killed when his care-taker-driver accidently backed an automobile over him in his residential driveway.

Tunes that followed were: "Byrd's Boogie"; "Moonland"; "Steelin' the Chimes"; "Wabash Blues", "Bandera Waltz", "Steelin' Is His Business", "Steel Guitar Rag", "Panhandle Rag", "Three String Swing", and "Kilima Waltz".

As a solo artist Jerry never reached the pinnacle of success that all artists strive to achieve however he did manage to garner #19 spot on the TOP 20 pop chart with his 1950 Mercury rendition of "Harbor Lights". His recording of "Steelin' the Blues" also made it onto the charts.

He did visit the #1 spot with Rex Allen's Mercury Record of "Afraid" (in 1950) and the #7 spot with another Mercury Record Star, also during the year 1950, with Red Kirk's "Lose Your Blues".

Jerry's fabulous playing also enhanced the 1949 Ernest Tubb classic "Have You Ever Been Lonely" and Red Foley's "Blues in my Heart" as well as Hank Williams' "Lovesick Blues".

The year 1951: Jerry's first album "Nani Hawaii", a four record set of 78 rpm discs, was recorded in January, 1951, and featured Danny Kuaana, Al McIntire, George Ku, and Mel Peterson, and to this day, is still considered by many of Jerry's fans to be one of his very best.

Jerry Byrd was just 31 years old at that time. Some die-hard Jerry Byrd fans claim that this album is the best example of Jerry's finest playing; the marriage of Jerry and that old Rickenbacher Bakelite, lap steel guitar and the Volu-Tone amplifier......and the one-of-a-kind TONE that together, they were able to produce. It's truly one of my favorites.

Jerry's steel guitar was soon to be heard on the records of hundreds of recording artists in both country and pop fields. In a very short time, nearly everyone wanted Jerry on "their records".

In November, 1951, Jerry once again returned to Radio WSM in Nashville, Tennessee. Jerry joined George Morgan and his "Candy Kids". On January 5, 1952, George and Jerry ventured to California for six days where they performed there on the Robin Hood Flour Shows. They also performed on a Tex Williams NBC Radio Show "Round-up Time". This was a temporary assignment as George's steel man, Don Davis, had been drafted. Jerry left that group in October, 1952, upon the return of Don Davis.

Jerry rejoined Red Foley's band where he remained until Foley left the Opry and headed for the newly formed Ozark Jubilee. At that time, the Prince Albert Show that Foley hosted, was paying Jerry a whopping $22.00 per week. Jerry soon learned that another local steel player was going to be paid more to "play like Jerry Byrd" than the real Jerry Byrd was getting paid for doing the same show. Jerry never really accepted that issue.

During the year 1953: Jerry was competing with some sixteen other steel players in Nashville, for recording sessions and the like. These players included:

Bob Foster;

Dickie Harris-w/Ernest Tubb;

Jack Evins-w/Ray Price;

Buford Gentry w/Hank Snow;

Joe Talbot;

Howard White w/Cowboy Copas;

Johnny Siberts w/Carl Smith;

Shot Jackson w/Johnny & Jack;

Don Davis w/George Morgan;

Pete Kirby (Oswald) w/Acuff;

Cliff Summey w/Lonzo & Oscar;

Don Helms;

Walter Haynes w/Jimmy Dickens;

Jackie Phelps w/Grandpa Jones.

Billy Robinson, w/Red Foley

Jerry and Chet Atkins joined forces and played a regular WSM Radio Show called "Two Guitars" that proved to be quite popular throughout the region. Jerry also worked a daily television show with Eddie Hill and Grandpa Jones over WLAC-TV, Nashville and WSIX-TV's "Home Folks" as well as "Country Junction".

Jerry labored under a heavy workload at his music for the next 22 years. Jerry also worked at Acuff-Rose Publishing Company, getting songs placed and recorded and too, for Combine Music in Nashville. While working on Music Row-Nashville, Jerry signed Dolly Parton to a publishing deal.

During this period in time, 1952-1953.........Jerry Byrd was playing his Trot-Mor custom steel guitar.

The year 1954: Daughter #2, Luana June was born on March 11, 1954, and graduated high school during the summer of 1972. Both daughters have lived in Nashville.

Jerry has always been an avid fisherman, a horse shoe thrower of near professional status, a meticulous coin collector and also enjoyed kite flying and a good game of softball. As in music, he excelled at all of these.

It is rumored however, that Howard White, a former steel player for Hank Snow, could easily hit Jerry' best fast ball out of the park. This was a lingering sore spot with our star however the two players remained best of friends, we're told.

Sometime around March, 1958: Jerry retired his loyal, 7-string, Rickenbacher steel guitar due to pick-up problems. He then started using a model BD Rickenbacher with "white plates", often referred to as a "post war" model. This guitar also had the smaller sized pickups.

During the fall of 1959: Jerry signed on with Monument Records, and had a brand new album ready for release.

His fabulous "Hawaiian Beach Party" album on RCA had been held up for nearly two years, was to be released in November, 1959. He'd done a number of recording sessions......playing steel guitar or bass. (In fact, if you'd like to hear Jerry playing bass, grab a copy of George Morgan's "I'm in Love Again".)

During 1960: On June 13th, to be exact, Jerry was seriously injured in an auto accident. The injuries were so serious, it required several months after a ten day hospital stay, to regain his strength. In addition to lacerations and trauma about the face and upper chest area (three badly fractured ribs) from the steering wheel, he sustained a very serious injury to his right knee cap, an injury that nearly severed the right leg at the knee. The right knee had to be wired in place; to hold the knee cap in place.

Jerry always experienced pain in that leg and at time encountered difficulty in getting around on it. That's one reason he hated carrying his "gear" around town for all the various gigs. I can't help but wonder if that is the reason behind Jerrys' unorthodox use of his left foot on his volume pedal?

Jerry was approached by numerous "ambulance chasing lawyers" at that time and although the truck operator was clearly in the wrong, Jerry declined to pursue a law suit against its owner/operator.

As the story goes, Jerry was approaching the top of a rise in the roadway when all of a sudden a dump truck or similar type vehicle appeared just over and below the crest in the roadway. Its location, when first observed by Jerry, afforded no time to brake or otherwise avoid a collision, thus Jerry's car rear-ended the larger, heavier truck.

At this time, Jerry and family were residing at 4949 Aster Drive, Nashville, Tennessee.

During April, 1962, Jerry was playing bass and doing little or no steel work. Jerry played bass on a Marty Robbins album that was cut about the same time Marty's Hawaiian album was done.

During October, 1962, Jerry played on the Eddie Hill TV Show, a six days per week early morning show. This was the Town & Country Band featuring Grandpa Jones.

During September, 1963, Jerry joined the Bobby Lord Show. This program aired five days per week over WSM-TV. Other members of the band included Jimmy Wilson, Joe Zinkan, Ferris Courey and Jerry Whitehurst. The program continued in national syndication throughout 1968. Jerry started this show playing steel guitar but during later months was seen playing rhythm guitar behind another steel player. During this time, Jerry was also working the Grand Ole Opry on a steady basis.

On March 22, 1964, Jerry lost one of his very best friends, a long time fan and "one who helped me in my beginnings when no one else did"; Ron Dearth died of a heart attack. Dearth's Music Store was long located on East Kibby Street in Lima, Ohio, and is said to be operated in the year 2005 by his niece Kathy Davis.

In April, 1964, Jerry made his first visit to Hawaii. His 8-day visit and the sights he got to see were far beyond any images he had envisioned. His heart surely had been captured. While there, he made a guest appearance on "Lucky's Luau" over KHVH-TV and was also interviewed on Webley Edward's "Hawaii Calls".

This is also the year that JERRY BYRD joined the Nashville television band of Bobby Lord's popular country music show.

In May, 1968, Jerry was still doing the daily Bobby Lord television show. He had completed 82 Grand Ole Opry TV Shows with an additional 30 to be started on May 17th. Jerry was preparing to do his costliest project "Memories of Maria" that was to be recorded in Mexico City.

As the 1970's rolled around, the pedal steel guitar had grown into recording industry prominence, thanks to Webb Pierce's popular 1950's hit "SLOWLY" that featured Bud Issacs on his Bigsby pedal steel guitar.

Jerry's music/recording sessions, as did the playing activities of many a steel player, slowly diminished during this time. The era of the pedal steel guitar had finally arrived.

Jerry elected to maintain his musical identity and chose not to switch to the ever growing, popular sound of the pedal steel guitar. During this era, Jerry could be seen from time to time playing rhythm guitar or bass in groups featuring pedal steel guitar players. As a result, Jerry eventually grew tired of "the Nashville Sound". In spite of a continuing controversy, Jerry Byrd NEVER touched the pedal steel guitar but did utilize his C-Diatonic tuning in an effort to provide a sound somewhat like pedals.

It was now sometime in 1972: Jerry made the decision and relocated himself and his beautiful music to Honolulu, Hawaii, where he continued to perform in local clubs, like the Blue Dolphin and the Royal Hawaiian Surf Room.

It was at this time, that Jerry Byrd began teaching the Hawaiian Steel Guitar to those in the land where it was born.

By this time however, Hawaii had essentially turned-its back on the steel guitar, the very instrument that for so long had been synonymous with Hawaii.

During the years that followed, Jerry Byrd was a significant factor in the rebirth of interest in this beautiful instrument. He has taught hundreds in the new generations that have followed all about the role the steel guitar has played in their heritage. Many of his students have risen to musical prominence and have become sensations in their own right. Names like Alan Akaka, Greg Sardinah and Casey Olsen, some of Jerry's earliest students, are but a few of Jerrys success stories.

Jerry has recorded just about every kind and style of music ever envisioned. He is a master of the instrument and respected by all that have ever heard him play.

Between 1978 and 1997, Jerry made about 39 "flying" trips, some to Tokyo, Japan, where he is very popular and highly respected. Other trips were made to Australia and New Zealand as well as the United States.

He was honored in 1978 by his induction into the Steel Guitar Hall of Fame in St. Louis, Missouri. Since that date, he has received countless other awards for his outstanding musical achievements.

By September 6, 2001, Jerry was fully retired from the active schedule that he had maintained for so many years. His musical efforts were limited to teaching only, at Harry's Music, located at 3457 Waialae Avenue, Honolulu, Hi 96816.(See photo's in photo album)

He stated quite simply that he was no longer "up to speed". Jerry admitted that with today's music, much of which is lacking any kind of melody line, even "HE" would be hard pressed to make his way doing session work. He definitely had the best time for his playing. He now was enjoying a relaxed life style and the beautiful weather with temperatures of 85-87 degrees.

In spite of these many acknowledgements, Jerry Byrd remained a humble man, always sincere and generous toward his thousands of international fans. Jerry continued to hand write some 500-600 personal letters each year and although reluctant to do so, he would even provide "free critiques" of a fan's steel guitar playing.

During the latter years, Jerry started sending audio tapes in order to keep up with the high demands for his time. Through it all, he has made each of us feel as though' we were his #1 Fan. He laughingly stated that he realized fully that I, Ray Montee, was his true #1 fan but he asked that I keep it a secret as he hadn't told anyone else, as yet. He went on to say that with our 16 years difference in age, him at that time being 81 and I, 65, I was just too old and stubborn to change anyway. One thing for certain, Jerry Byrd will always be our number one star.

Listening to Jerry's beautiful playing style, whether a country or pop tune, it is easy to recognize his fondness of Hawaiian music. While standing just 5' 7", Jerry was certainly not a huge physical hulk, but he most certainly was a giant in the music industry and specifically in the history of the steel guitar.

About a year prior to Jerry's passing, he sent me an audio-letter and it was really quite tragic. Having given a major portion of his musical career to acknowledging and/or helping his thousands of devoted fans, Jerry had come face to face with the harsh reality of some real negative attacks about him over one of the world's most famous and pleasurable steel guitarist computer hang-outs.

One Forumite in particular, had become highly critical of Jerry and seemed to pounce on any/every remark that Jerry might make. Jerry's brother Jack Byrd had kept him up to date on the steel guitar world since Jerry refused to have anything to do with computers. Jerry was somewhat bemused that his brother Jack became so upset over the negative comments being directed at Jerry. However as time went by, Jerry too, began to feel the sting of these unkind remarks.

He was quite upset as a result of some of the comments made about him "not being Hawaiian enough"; or, "being too Hawaiian". Some of these detractors had not even been born when Jerry arrived in the islands.

It was so up-setting to me to listen to this wonderful man admitting that these derogatory comments had actually gotten to him and he was speaking as a man that had been hurt quite deeply. He simply was unable to figure out what it was that he had ever done that turned these one or two individuals against him. So as great as he was.......those hurtful remarks still penetrated to his inner-most soul. It still saddens me, that Jerry Byrd went to his death, with these unanswered questions in his heart.

The year 2004:

On a sunny and warm, Sunday afternoon, at about 4:00 PM., during September, 2004, my lovely wife Sally and I were resting our weary bones in our room on the 12th floor of the Marine Surf Hotel in downtown Honolulu. The restfulness was shattered by the loud ringing of our telephone.

I was able at once to identify the robust voice of none other than Jerry Byrd. I was thrilled beyond words.
Jerry sounded as though he was in good spirits but a bit tired and somewhat out of breath. He explained that the prostate surgery on the previous Friday, had not been successful and that they were going to have to go back in and do it once again, 'next Friday'. He stated his bladder was not pumping properly thus he had to be connected to a catheter and for this reason, he was not in a good situation to entertain guests. He was sincerely apologetic for this and mentioned it numerous times during our conversation. He went on to say that of all the times I could have picked to come to Hawaii, I had to pick the worst possible time in his life, to do so.

Jerry's brother Jack Byrd, later mentioned to me, following my return back to Portland, OR., that Jerry had mentioned to him, how badly he'd felt by being unable to get to see me after so many years had elapsed and after having come so far. Jerry and I chatted for a brief period during which time I tossed some questions to him. He stated that his father did ultimately accept the fact that JERRY BYRD was 'going to be a musician', but his mother, of strong German descent, NEVER DID accept it.

He mentioned that it wasn't until he'd gone and worked on Radio WJR in Detroit, doing national broadcasts, and after receiving tons of fan mail, that he realize he definitely had a good thing going, musically. His early-on musical mentor Ron Dearth of Lima, Ohio, made Jerry's first recordings. This was done on a large disc cutting machine and if a mistake was made, the entire disc had to be discarded and the procedure started all over from the beginning. (I was readily quick to recognize what he was describing, as my own first multiple recordings were done in the exact same way. This would have been in about 1950.)

At this point, Jerry interjected that 'many, poor quality, over-the-air instrumentals of his, had been recorded from the WJR Radio shows by Ron Dearth.' I had listened to those recordings dozens of times and had always wondered who had recorded them. The most frustrating thing about these 'priceless recordings' was that the instrumentals were recorded from start to finish, however, on the vocals by Ernie Lee, as soon as Jerry would finish his solo in the middle of the song, the recording would abruptly end.

Throughout our brief conversation, Jerry would jump from one topic to another as the thoughts came to him. I simply was not able to keep him on track in order to answer my life-time list of 'unanswered questions'.

Jerry did mention that he "always tuned by ear; no gimmicks or gadgets". With just a little boasting, he confided that he could 'tune faster and more accurately than the other guys could today, with their fancy tuners and such'. Anyone that has had the privilege of watching Jerry Byrd perform at one of his concerts, will fully understand what he was saying.

Jerry mentioned that Don Helms had just recently sent him a 3-CD set of olde Hank Williams tunes on which Helms had played. Jerry says 'he, JB', was mentioned on "Love Sick Blues" but was not identified on "I'm So Lonesome I Could Cry". He went on to mention that Helms was "a one artist musician" and quickly added that he, "JB", would never have done that. In an earlier conversation with Jerry, he made a comment to me, that seemed to indicate he didn't hold the Williams' "contingent' in very high regard.

Darting back into his earlier playing days, Jerry mentioned how Jimmy Wakely was the one person, that was thoughtful enough to tip him off on how he, 'JB', was getting screwed over by everyone when he was not being paid his legitimate "BAND LEADER" pay.

Jerry stated that he was supposed to be getting double (union scale) pay and after all of those years, he'd only been paid the same $41.00 per session amount as the side-men in the band. He accepts the fact that he was just too nai've and trusting but I could tell there was a lingering 'pain' connected with this revelation.

Jerry then recalled one night at the Opry when a big-shot KING RECORDS Executive, hollered out to him that 'if Jerry really wanted to make it big-time, he'd better start making his steel guitar sound like something else'. Jerry said he hollered right back at the BIG SHOT.............. "Forget it!".

Jerry then commented about his long-time Sho-Bud guitar. He said the guitar had "custom wound pickups" and "a special nut".......but beyond that, he wouldn't elaborate. (For just a kid, from Lima, Ohio, Jerry sure did seem to know a lot about "rewinding pickups" even though he professed to know little if anything about amps.)


Some of you will likely recall, elsewhere in this web site, that Jerry Byrd had told me during earlier correspondence that he "knew absolutely nothing about 'electronics'." He alibied that he did know that there was a little toggle switch on the back and a little red light that would come on when it was working correctly. But beyond that, Jerry claimed no wizardry whatsoever.

Jerry did sheepishly admit that he remembers now, that if he happened to get carried away with his playing and turn up the guitar/amp volume in excess, he would readily blow-out the speaker. How about that for an admission?

Some years ago when I acquired my first Rickenbacher, 7-string, Bakelite, I had encountered what sounded like a low-volume/dead string. Mentioning this to Jerry one day, he went into elaborate detail on how one might correct this problem by using a tiny piece of tin foil, placed beneath the pickup pole piece. He explained how over time, these little pieces become separated from their base and thus, their loudness dissipates. He mentioned "It works every time." I can't help but wonder how many 'more secrets' Jerry Byrd knew about electronics, amps and pickups. Hummmmmm.....

Jerry explained that when Shot Jackson needed to make a new fret board, Jerry states he (JB), went to an open tone, and then proceeded to mark the fret board at each appropriate place, on up the scale. Very matter of fact, he stated "That's how it was done". (Can't help but wonder why they didn't just buy one off the shelf like some folks have suggested on the Steel Guitar Forum?)

Nearing the end of what was to become our last conversation, Jerry encouraged me to drop-in on Alan Akaka at the beach front hotel where he was playing. He stressed that I should introduce myself and tell Alan that Jerry had personally sent me there. Jerry proudly mentioned that Alan was one of his earliest students of steel guitar.

Jerry and I finally got around to saying our good-byes and little did we know, that they would be our 'last'.


On Monday, April 11, 2005, at 5:40 AM Honolulu time, the world lost a wonderful human being and without doubt, the finest steel guitarist ever heard. Jerry's death at Kaiser's Moanalua Hospital, was the result of complications arising out of Parkinson's disease.

A "Memorial Celebration of Life" for Jerry was held from 8:00-11:00 AM on Saturday, April 16, 2005, at the Elk's Club in Honolulu.

"Greetings and Introductions" by Aaron Mahi were followed by a prayer. "Personal Remembrances" were presented by DeWitt Scott, Isaac Akuna and Hiram Olsen. A "Musical Offering" by Nina Kealiiwahamana; "Eulogy" by Lani Fosbinder (Jerry's oldest daughter); "Closing Song"....I'll Remember You... by Bill Ha'ole; "Blessing of Ashes" by Aaron Mahi with the "Scattering of Ashes" by the Elks' Beachboys.

Jerry is survived by his wife "Elizabeth H. Kaleo Wood"; Jerry's daughters Lani Fosbinder and Luana Byrd; Grandchildren Carrie and Patrick Fosbinder, Michael and Adric Braihwaite of Nashville, Brother - Jack Byrd and Delilah; Niece Kimberle Byrd of Kalamazoo, MI.; Nephew John Byrd of Montana; and, other nieces and nephews.

Jerry Byrd's ashes were scattered on the Pacific Ocean near Honolulu, Hawaii. Family and a few close friends were at his side at his passing.

Jerry Byrd will forever remain the "Master of Touch & Tone" in the hearts and minds of Jerry's throng of loyal followers from around the world.

The Jerry Byrd Fan Club web site is here, not to mourn this terrible loss but rather, to celebrate his beautiful, musical contributions that he has left behind for each of us to enjoy. The records being played on this site, are old, scratched, worn-out and some even cracked, however the beauty of Jerry's playing still shines through. We hope each of you will enjoy this opportunity to hear Jerry's fabulous playing as much as we do, bringing it to you. Aloha.............
END