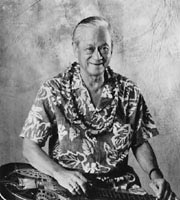 Alvin Kalanikau "Barney" Isaacs, Jr. (1924-1996) was one of Hawaii's premier steel guitarists. Barney grew up in a remarkable musical family that included his father, composer and band leader Alvin Kaleolani Isaacs, Sr., and two brothers, slack key master Leland "Atta" Isaacs and multi-instrumentalist Norman Isaacs.

Barney remembered being exposed to music from the time he was small. "We had a big house and music was there all the time. Our dad had a dance band that rehearsed on the premises. They played all kinds of music, not just Hawaiian." Alvin, Sr. actively encouraged his ten children to play. He taught Barney, Atta and Norman the rudiments of steel guitar while they were still in elementary school. "When my dad noticed that we were always playing together, he suggested we form a trio," Barney recalled. When the trio was formed, they had to spread out. "As the oldest, I got to pick first, so I stayed with the steel." Atta went to the guitar and Norman played the bass. "We could sing parts and everything. At that time Hawaiian music was very danceable; fox trots, waltzes. We were always trying to keep up, learn as much as we could from the older guys and each other. Pua Almeida, Jules Ah See, the Kalimas, they were all our age. Jules' steel playing probably had the most influence on me. He could really make it sing. He had so many styles and different tunings. He was so adept at picking things up, but he never lost his own recognizable sound."

Alvin, Sr. was a very successful band leader and composer, and in 1948 Barney accepted a position in his father's group, the legendary Royal Hawaiian Serenaders. "It couldn't have been a better place to start - in the Monarch Room at the Royal Hawaiian Hotel with that group - my father, Benny Kalama, George Kainapau. They were really terrific." From the late 1940s, Barney was one of Hawai'i's most versatile and active performers, and a globetrotting ambassador of the steel guitar. He spent 25 years with the Hawaii's Calls radio show and enjoyed long associations with Alfred Apaka, Danny Kaleikini and his own groups at numerous nightspots.

Also active behind the scenes, Barney served as the musical director for Waikiki Records in the 1950s and even operated his own club, The Palm Tree Inn, turning it into a locally celebrated musician's hangout. Barney's father was well-known for the huge musical gatherings he liked to hold at his house in Kalihi. Following his father's example, Barney loved to bring musicians together to socialize and perform for their own enjoyment. He also taught and served on the governing board of the major steel guitar societies.

Barney's recording credits number in the hundreds, including groundbreaking electric steel and slack key duets in the 1950s with Gabby Pahinui and Atta Isaacs, accompanied by a rhythm section on HAWAIIAN SLACK KEY GUITAR, VOLUMES 1 AND 2 (Waikiki Records 319 & 320), which were the spiritual predecessors for Barney's Dancing Cat release HAWAIIAN TOUCH. During the recording sessions, Barney said that he felt a special aloha for that project. "The acoustic steel is the instrument I started on," he said. "Believe it or not, this was the first time I ever recorded on it."